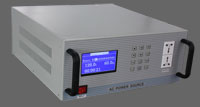 Static Frequency Converter

buy@FrequencyConverter.net

tech@FrequencyConverter.net
Why use 400Hz on aircraft?
Simple answer is: mass and volume. Higher frequency means reduced material (and thus volume / mass) for transformers and rotating machines.

Practical limit is around 400 Hz - much higher, and the magnetic components get pretty esoteric to minimize losses. They'd also start to have issues with prime movers and/or interference with VHF/UHF bands for communication purposes.

In a small system like aircraft reducing the weight of the system is given priority, so higher frequency like 400 Hz (limited by losses). Power density of the machine can be increased either by increasing torque/speed, but increasing torque requires higher volume....so turbine driven alternators of aerospace applications always run at few kilo rpm.

We shall remember, early gensets where attached to multi cyl (Star- config) propeller machines at few thousand revs still had to be reduced, with heavy gearboxes in ratios to limit the frequency of a multipole genset. Later came Jets 6-20Krpm reduced to revs suitable for few pole gensets. 400Hz instead of 50Hz > less gear ratio > less gearbox weight.

400Hz power distributions are prone to more loss during transport due to the impedance of cables etc. Luckily is distance of cable runs on a plane, aircraft etc.

400Hz provides a bit more safety in way of making it easy to extinguish an arc flame created between the poles of a contactor. More passages through 0 volt potential will help to extinguish the arc, moreover can added short circuit protection be built in in form of short coils (XL).

400Hz convert to DC with Convert Bridge and smoothed by means of capacitors, requires smaller caps than if from 50 Hz.