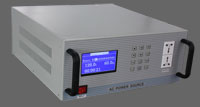 Static Frequency Converter

buy@FrequencyConverter.net

tech@FrequencyConverter.net
How to convert single phase to three phase power?
Single phase to three phase conversion can be useful only in domestic or in isolated environments.
For small hobby type applications or basic agricultural requirements where you just want to get a small three phase supply to power a lathe, drill, drive belt etc there is a basic device called a
static frequency converter
. If you look this up in Google you will get lots of hits. Try looking on Google images and you will see what is going on inside. You will need to know the power or horsepower rating of the motor in order to determine the correct capacitors. This is low cost & basic. It may cause the motor to get a bit hot due to poor phase balancing and so may restrict the power you can get out of the motor. Lots of low cost devices are on the market.
For larger applications you will probably need to go down the line of rotary converters (where a single phase motor drives a three phase generator) or a more sophisticated inverter design using thyristors and complicated electronics. Obviously these will have increasing complexity and associated cost.
Use a motor-generator set. Example: use a 10 HP SINGLE PHASE motor and couple it to drive a 10 HP THREE PHASE generator (alternator). The single phase motor can be a 230 volt or 460 volt motor and the generator can be a three phase generator (alternator) of the desired 3 phase voltage (208, 230, 440, 460, etc.) of the voltage level desired within the limits allowed by the application and in compliance with the code and safety requirements. The frequency of the driving motor and the driven alternator may not necessarily be the same,
50Hz or 60Hz
.
For less than 5 HP, by far the most efficient and easy way to convert 1 phase to 3 phase are the variable speed motor drives out that can be equipped with single phase front ends, and provide variable frequency three phase power. I have one on my wood lathe (3 HP) and could not be happier, not just for the ability to use a three phase motor, but also soft start, dynamic breaking, speed control, and direction control.