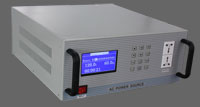 Static Frequency Converter

buy@FrequencyConverter.net

tech@FrequencyConverter.net
Home
»
Converters
»
Convert 60Hz 110V (120V) to 50Hz 220V (230V, 240V)
Convert 60Hz 110V (120V) to 50Hz 220V (230V, 240V)
Basic knowledge about 50Hz, 60Hz power supply
Alternating Current (AC) is changing the direction of the current periodically; Cycle is the time of a cyclical change of the current; Frequency is the times of the current changes per second, unit Hertz (Hz). AC current direction changes 50 or 60 cycles per second, in accordance with 100 or 120 changes per second, then the frequency is 50Hz or 60Hz.
Why we need to convert 60Hz 110V to 50Hz 230V, or vice?
50Hz (220V, 230V, 240V) and 60Hz (110V, 120V) power supplies are most often used in global power system for home appliances. Some countries (regions) use 60 Hz power source while other countries use 50 Hz, but some equipment are not working well on different frequency. Home appliances, like TV, speaker, lights, can work with both 50Hz and 60Hz power supply, but some other appliances especially with electric motor inside it, like air conditioner, fridge, can only work with 50Hz or 60Hz. If a 50Hz electric motor working on 60Hz power system, the motor speed will be 20% faster, then cause over temperature and shorten its service life.
We all know, most Asian and European countries (e.g. China, England) power grids are 50 Hertz, 220V (230V, 240V), but American countries (e.g. USA, Canada) are 60 Hertz, 110V (120V). In case of a UK (230V 50Hz) family move to USA (110V 60Hz) along with their home appliances (e.g. stove, coffee machine), those appliances are designed for 230V 50 Hz power supply, which will NOT work (or not work well) in 110V 60 Hz system. Hence, we need a device to
convert 60Hz 110V to 50Hz 230V
to allow such appliances work in a good condition.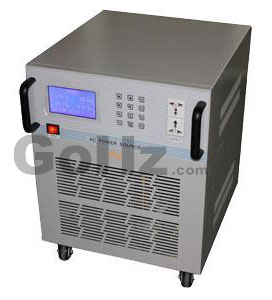 How to change 50 Hz to 60 Hz, or vice?
GoHz solid state (static) frequency converter (aka AC power source) can convert 50 Hertz or 60 Hertz AC power to variable frequency (40 Hz - 499.9 Hz), variable voltage (0 - 300V 1 phase, or 0 - 520V 3 phase) through AC → DC → AC conversion, output pure sine wave, and adjustable frequency and voltage. Ideal AC power supply is stable frequency, stable voltage, resistance is approx zero and the voltage waveform is pure sine wave (without distortion). Static frequency converter output is very close to the ideal power supply, hence, more and more countries use solid state frequency converter power supply as a standard power source in order to provide the best electrical power supply environment for appliances to estimate their technical performance.
By using GoHz solid state frequency converter, you can easily convert 110V (120V) 60Hz to 220V (230V, 240V) 50Hz in one step by inner step up transformer, also you can change single phase to three phase at the same time.