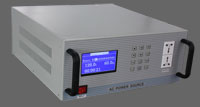 Static Frequency Converter

buy@FrequencyConverter.net

tech@FrequencyConverter.net
Home
»
Single Phase Converter
Single Phase 60Hz, 50Hz Frequency Converter
GoHz static frequency converter is a standard AC power supply electronic device, it can simulate international standard power supplies, convert fixed AC voltage and frequency power (50Hz, 60Hz) into stable pure sine wave power by internal AC to DC, DC to AC current rectifying, with high activation current, and displays a number of parameters (Such as: voltage, frequency, current, apparent power, power factor etc.).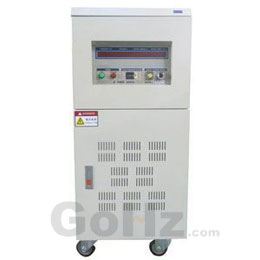 By using this
frequency converter
, you can easily convert single phase
110V 60Hz to 220V 50Hz;
120V 60Hz to 240V 50Hz;
230V 50Hz to 110V 60Hz;
220V 50Hz to 120V 60Hz
... ...

Single Phase Frequency Converter General Features
Adopt high brightness LED display, clear and eye-catching, wide view angle;
Adopt IGBT module design, output stable pure sine wave power, less interference, high precision and low noise;
Adopt advanced Direct Digital Synthesizer (DDS) waveform generation technology, high frequency stability and good continuity;
Adjustable wide range output voltage, single phase 0-300V, keypad input directly (500kVA to 5kVA programmable frequency converters, optional);
Output current limitation feature;
10 sets parameters preset records, store common parameters (Voltage V, Frequency Hz and Running Time S) for recall easily;
RS232 (Optional) communication interface can be connected with computer to constitute intelligent power supplies;
Protection of overvoltage, overcurrent, overload, short circuit, current limitation;
High accuracy digital key input voltage, frequency;
Fault code records, easy for troubleshooting.
Single Phase Frequency Converter Model List
Capacity
500VA
1 kVA
2 kVA
3 kVA
5 kVA
8 kVA
10 kVA
15 kVA
20 kVA
30 kVA
45 kVA
Model
HZ-50-500W
HZ-50-1101
HZ-50-1102
HZ-50-1103
HZ-50-1105
HZ-50-1108
HZ-50-1110
HZ-50-1115
HZ-50-1120
HZ-50-1130
HZ-50-1145
Output Current

Low-grade (L-N)
4.2A
8.4A
16.8A
25.0A
41.6A
63.0A
83.2A
125.0A
166.4A
250A
375A
High-grade:
(L-N)
2.1A
4.2A
8.4A
12.5A
20.8A
31.5A
41.6A
62.5A
83.2A
125A
188A
Weight
(Kgs)
17
21
45
60
70
80
120
130
150
200
265
Size
(mm)
365*570*138
350*530*675
350*630*855
450*630*1000
(inch)
14.6*14.8*5.5
14*21.2*27
14*26*34.2
18*25.2*40
General Specifications
Input
Voltage
1 Phase 2 Wire: 110V/120V, 220V/230V/240 ± 10%
Frequency
50 Hz, 60 Hz or 400 Hz ± 5%
Output
Voltage
110V Setting (Low grade): 0-150V

220V Setting 0-300V (High grade): 0-300V

Load stabilization Rate
≤±1%
Frequency
50Hz, 60Hz up to 400Hz (optional) adjustable
Frequency Stability
≤±0.01%
Harmonic Distortion
Pure Sine Wave ≤2%
Frequency meter
4 digit, digital frequency meter, resolution 0.1Hz/Step
Voltmeter
4 digit, digital voltage meter, resolution 0.1V
Ammeter
4 digit, digital ammeter, resolution 0.1A
Watt meter
4 digit, digital Watt meter, resolution 0.1W
Protection
With overload, short circuit, over temperature
Instantaneous power failure protection and alarm device
Working Environment
Temperature
0 - 40 deg.℃
Humidity
0 - 90% (Non condensation)
Checklist
Every frequency converter has functional test before leaving factory, the frequency converter is wooden packaged, includes:
1 unit frequency converter

1 unit input power cable (only for 500VA & 1kVA)

Operation manual.