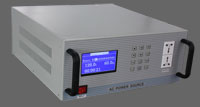 Static Frequency Converter

buy@FrequencyConverter.net

tech@FrequencyConverter.net
Difference between 50Hz and 60Hz motors
Most small 3-phase motors run equally well on 50Hz and 60Hz. In some cases both frequencies are stamped on the nameplates, in other cases you can go into the manufacturer's catalog and choose which frequency you want on the nameplate.

Speed difference: For a standard motor, the RPM is largely proportional to the frequency, so around 20% speed increase at 60Hz compared to 50Hz power supply.

Bearings difference: Theoretically the bearing lifetime should be reduced at the higher speed, but in reality there is so much uncertainty regarding the actual bearing life, compared to the minimum guaranteed life, that this concern is largely irrelevant.

Temperature difference: When the motor runs nearly 20% faster at 60Hz power, the cooling effect from the shaft mounted fans will increase by around 40% (~20% more air, pushed through ~20% faster).

Losses difference: Provided we keep the voltage proportional to the frequency, we will get the same magnetization (flux) at the higher frequency. This will cause a 20-40% increase in the eddy current losses, and around a 20% increase in hysteresis losses in the stator from 50Hz to 60Hz. These losses account generally for only a small fraction of the full load losses, so they can largely be ignored in the comparison. The bearing friction losses will also increase marginally with the increased speed, but they are generally even smaller than the iron core losses just mentioned.

Power Factor difference: Due to increased frequency, we can expect a slightly reduced power factor at nominal current (the series reactance of the primary winding is proportional to frequency).

Rated Voltage difference: 20% higher at 60Hz than at 50Hz. (Increase from e.g. 400V 50Hz to 480V 60Hz)

Rated Torque difference: Since this is largely proportional to the primary current, for the same slip, there will be little or no difference.

Rated Output difference: Around 20% higher at 60Hz than at 50Hz power supply.

Slip difference: Very little difference. This will depend on a variety of factors, so it is hard to generalize.

Due to increased cooling, it may at times be safe to load the motor slightly more than 20% higher at 60Hz than at 50Hz power system. I have personally had success in using a 7.5kW slipping motor to generate over 20kW for extended periods, with no adverse effects on the motor.